Search for Furnished Apartments

- 3 months, one year, two years, or more. -
Rent is paid by credit card each month.
Rent Life's furnished apartments

Rent Life Co., Ltd. provides furnished apartments to foreign residents in Yokohama.
Our apartments meet the needs of and offer greater flexibility for various people who are sightseeing, traveling on business trips, attending training, or need temporary housing. Unlike a standard rental, there are no troublesome procedures and if you are visiting Japan for the first time, you can rest assured of full support from our English-speaking staff.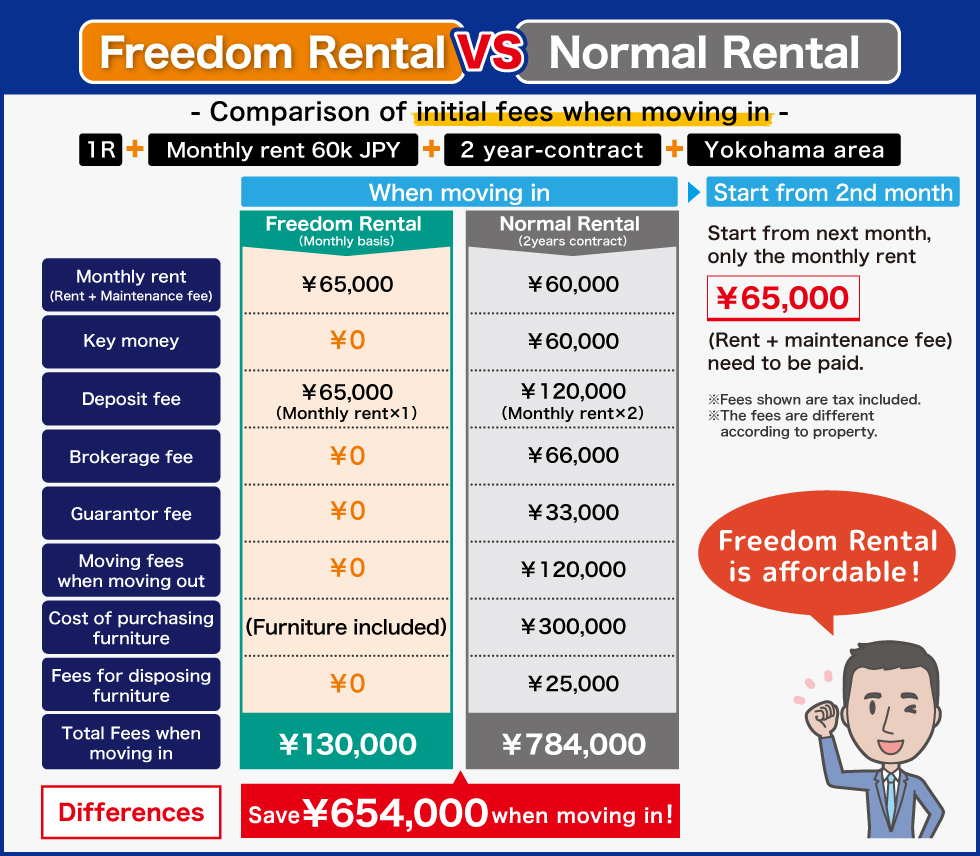 What is Freedom Rental?
Living alone . Great deals for students . Convenient for corporate business trip or training.
Fully Furnished. Flexible in duration of stay. Length of stay can be on monthly basis.
No security deposit, key money, and brokerage fee. You can reduce the cost because there is almost no moving cost when moving in and out.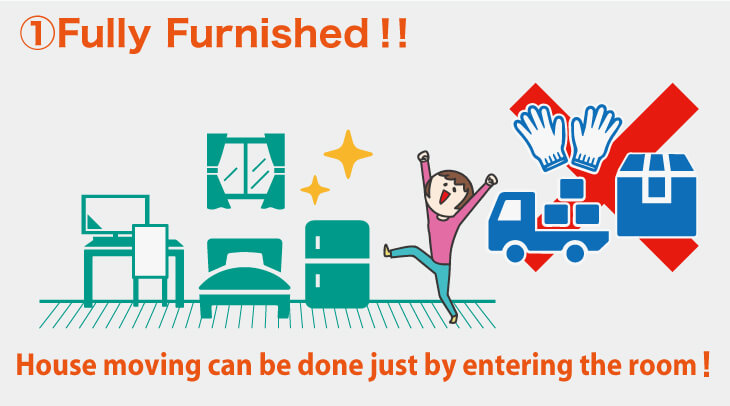 Fully Furnished!!House moving can be done just by entering the room!
You can match the furniture and appliances to the rental property of your choice.
Rent Life offers plans with furniture and appliances that are in particularly high demand.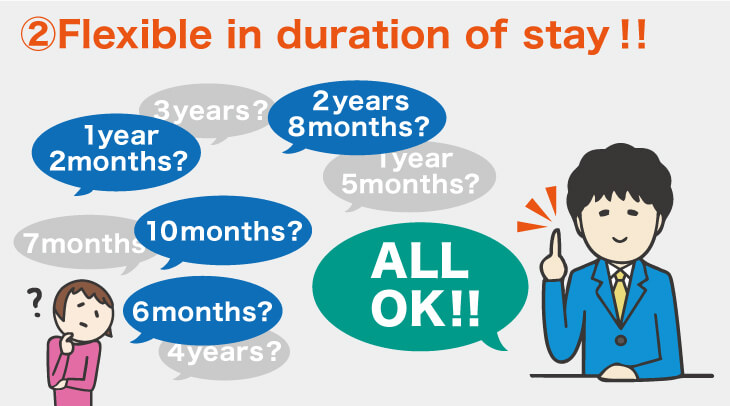 Flexible in duration of stay!!!
Different from others rental plan. In freedom rental plan, contract with monthly basis is possible. 6 months, 1 year, 2 years… Because the duration of stay is flexible, it can be used for various purposes.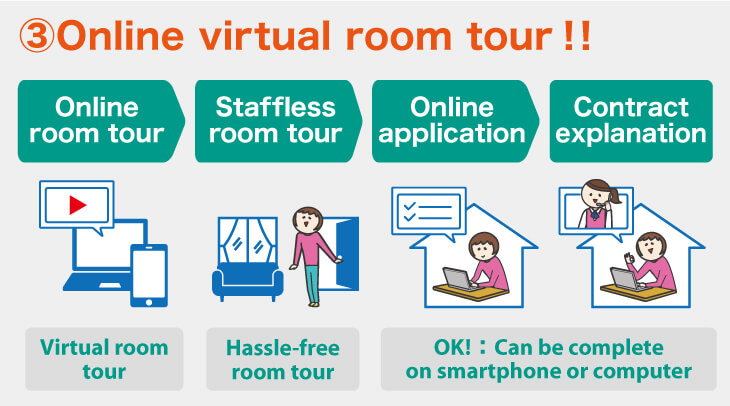 Application and contract can be done online!
We offer online virtual room tour, which is very convenient for those who don't have time or are far away. You can also feel free to go for an actual room tour without staff.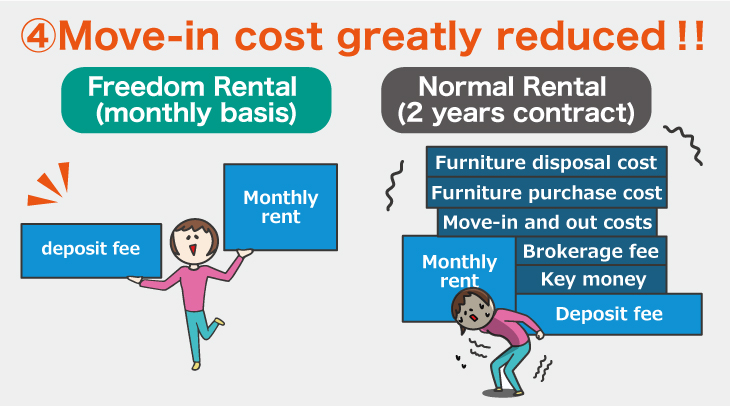 Moving in cost greatly reduced!!
No security deposit, key money and brokerage fee!!
Moving in fee is very good in value!! No security deposit, key money and brokerage fee!! Because it is a fully furnished room, besides no extra cost for buying new furniture, there is no need for the hassle and expense of transporting your belongings when moving out.
Staff
The professional team staff

ONG ENG HONG

As a foreigner who is living in Japan, I understand deeply about how complicated renting an apartment in Japan is. High move-in cost with many different kinds of fees and difficult to communicate with them as a non-native Japanese speaker.
Helping foreigner in Japan is one of the Rent Life's vision. We tried to simplify the whole renting procedure as simple as possible and make it unburden to anyone.
I hope that our relationship is not just as an agent and client, but able to help you and make your life in Japan easier as a friend.
Feel free to contact us if you have any concern or problem about renting an apartment in Japan.

The professional team staff

Nuveen Janitha

Finding an apartment was one of the biggest challenges I had when I first arrived in Japan as a foreign student. The expense of moving in was significant because you had to purchase appliances for your apartment and pay a variety of fees. and the language barrier was a major issue too. Using our past experience, we then looked for the most effective approach for foreigners to rent an apartment in Japan. To enhance communication between Tenet and our company, we effortlessly offer multilingual staff. We offer fully furnished apartments with a reasonable move-in rate, and the agreement and payment procedures are also very straightforward. We help those who are having a hard time locating housing while conversing with Japanese speakers. Contact us to reserve an apartment if you intend to visit Japan as a student, visitor, or for business. Find the ideal residence for you, then get in touch with us via our website. We are eager to collaborate with you.

A word from the professional team staff chief of rental properties for foreigners

Robert D. Sorensen

Welcome to Rent Life!
Having lived in Japan for more than 30 years under various situations including the SOFA status, a student visa, a working visa, a spouse visa, and now a permanent resident, I have a special insight into the difficulties and obstacles faced by fellow foreigners who are trying to rent a home in Japan.
Based on my own experiences and using the advanced networking capability of Rent Life, we can offer you the best service in English related to rental and lease agreements, real estate investments, and residential remodeling services in Japan.
Directions to Office
Directions to Rent Life Shin-Yokohama Branch from Shin-Yokohama Stations
(Blue Line & Yokohama Line)
A 1-minute walk from Exit No. 10 of the Blue Line subway Shin-Yokohama Station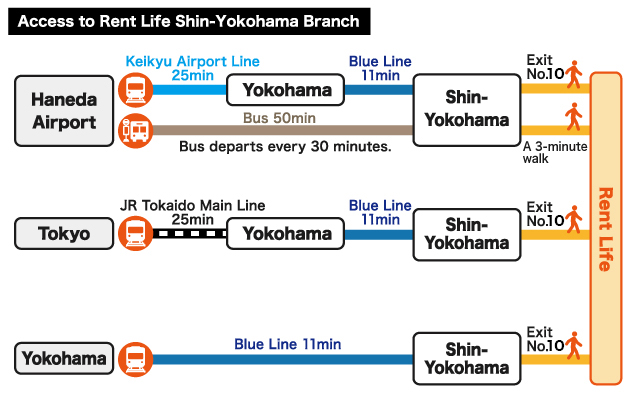 Unique points of Rent Life's apartments
You can start renting rent an apartment by only paying a security deposit and the initial rent.
No Guarantor
No Guarantor Company
No Agency Fee
No Key Money
Furniture and Appliances included
Rent is paid by credit card each month
A Rent Life lease can be easily completed in only 3 steps!
Step 1. Search for an Apartment
Step 2. Reserve an Apartment
Step 3. Contract & Move In
You can stay as long as you want
Full English Support
Possible for room sharing
★ You can still rent our apartment even if you are visiting Japan with a working holiday visa or student visa.
(You can stay as long as you want within your visa validity period.)
★ One month's rent for the last month will be debited from you card. At the time of the move-out inspection, rent for the number of days remaining will be prorated and refunded to you in cash.
★ At the end of the lease, the security deposit will be refunded minus the cost of the cleaning fee and any required repairs or replacement of damaged furnishings.

Feel free to inquire about vacancies or booking a reservation.
Telephone inquiry
+81-45-470-3214
Business Hours:10:00 to 18:00(Thursday to Monday)
Rent Life Co., Ltd.
Kaede Dai-2 Building 6F, 2-5-10 Shin-Yokohama Kohoku-ku, Yokohama-shi, Kanagawa -