Search for Furnished Apartments

- one month, one year, two years, or more. -
Rent is paid by credit card each month.
Rent Life's furnished apartments

Rent Life Co., Ltd. provides furnished apartments to foreign residents in Yokohama.
Our apartments meet the needs of and offer greater flexibility for various people who are sightseeing, traveling on business trips, attending training, or need temporary housing. Unlike a standard rental, there are no troublesome procedures and if you are visiting Japan for the first time, you can rest assured of full support from our English-speaking staff.
Directions to Office
Directions to Rent Life Shin-Yokohama Branch from Shin-Yokohama Stations
(Blue Line & Yokohama Line)
A 1-minute walk from Exit No. 8 of the Blue Line subway Shin-Yokohama Station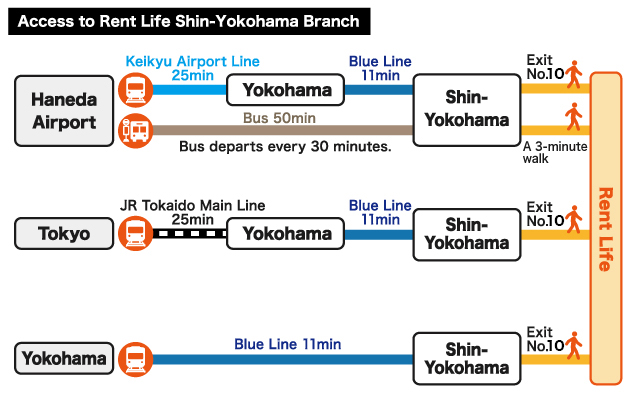 Staff
A word from the professional team staff chief of rental properties for foreigners

Robert D. Sorensen

Welcome to Rent Life!
Having lived in Japan for more than 30 years under various situations including the SOFA status, a student visa, a working visa, a spouse visa, and now a permanent resident, I have a special insight into the difficulties and obstacles faced by fellow foreigners who are trying to rent a home in Japan.
Based on my own experiences and using the advanced networking capability of Rent Life, we can offer you the best service in English related to rental and lease agreements, real estate investments, and residential remodeling services in Japan.

The professional team staff

Genki Yamamoto

I know people who came from another country have anxiety about living in Japan.
We have met many clients who have returned to us for assistance when searching for their next home after we helped them find an apartment through Rent Life.
If you are searching a rental property in Yokohama, please relax and talk with us!

The professional team staff

Akemi Oshiro

Please be aware that the availability of apartments in areas like Yokohama and Tokyo can vary from hour to hour and day to day.
I have many years of experience in working with people from all over the world.
So, stop by and let me help you to find a new home!
Unique points of Rent Life's apartments
You can start renting rent an apartment by only paying a security deposit and the initial rent.
No Guarantor
No Guarantor Company
No Agency Fee
No Key Money
Furniture and Appliances included
Rent is paid by credit card each month
A Rent Life lease can be easily completed in only 3 steps!
Step 1. Search for an Apartment
Step 2. Reserve an Apartment
Step 3. Contract & Move In
You can stay as long as you want
Full English Support
★ You can still rent our apartment even if you are visiting Japan with a working holiday visa or student visa.
(You can stay as long as you want within your visa validity period.)
★ One month's rent for the last month will be debited from you card. At the time of the move-out inspection, rent for the number of days remaining will be prorated and refunded to you in cash.
★ At the end of the lease, the security deposit will be refunded minus the cost of the cleaning fee and any required repairs or replacement of damaged furnishings.

Feel free to inquire about vacancies or booking a reservation.
Telephone inquiry
+81-45-470-3214
Business Hours:10:00 to 18:30(Thursday to Monday)
Rent Life Co., Ltd.
Kaede Dai-2 Building 6F, 2-5-10 Shin-Yokohama Kohoku-ku, Yokohama-shi, Kanagawa -